This morning, I opened up 'Masa al HaShorashim'.
***Updates Below***
It's one of the books that collates teachings from the Rav, Rabbi Eliezer Berland, from the last few years, in Hebrew.
I opened it up 'randomly', and I got to this:
Truth will only be revealed at the end of days, after strength is given to the lies to 'explode' all over the world.
====
I carried on reading, and it was a variation on a message that the Rav has given over repeatedly, during the last few years, including HERE: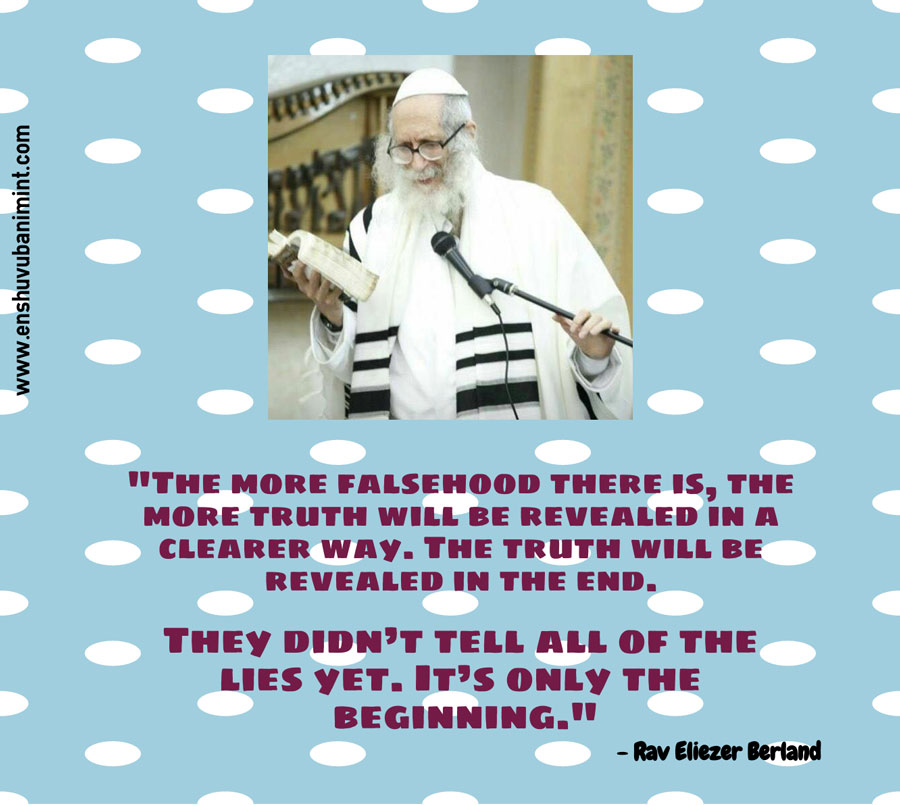 ====
I carried on reading, and I quickly got to this:
Don't do any 'articles' against any 'articles'!!! 

Why? Because there should be even more [slanderous] articles!

Don't do any articles 'against' the articles!!!!
====
I carried on reading, and I got to this:
The more lies that they say, the more we are going to succeed….
So like this, they should continue to write in the papers, that it should be written everywhere.
Until only ten people remain, and not more, who can recite the kaddish…. and the whole world should oppose me.
====
And then, finally, to this:
The more they tell lies about a person, the more he merits to length of days
[i.e. a long life].
====
The message is crystal clear, isn't it?
Today, I woke up to tons of slanderous stories all over that same lying MSM that told us 'Covid 19' was a real pandemic; that Pfizer shots containing experimental magnetised nanobots that can hack your brain are 'totally safe'; and that 45 people died in Meron only because of Chareidi 'overcrowding.
At this point, if 'people out there' can't recognise the lies from the truth, if they can't see the modus operandi that gets oiled up and cranked into motion again and again to try to destroy the enemies of the State – what can I do about it?
Even if I wanted to get into a whole rehash of what's really going on here, or to discuss how corrupt governments keep sick, innocent old people 'in prison' indefinitely with no trial, until they apparently have no other choice of ever getting out except making a plea bargain, the Rav clearly warned me off from doing that, this morning.
====
There are big spiritual considerations underpinning all of this.
Each time we get to another national precipice, another fork in the road towards geula, another period of terrible danger for Am Yisrael, the Rav engineers some new form of terrible public disgrace for himself.
All this is deja vu.
Except this time around, we are post-Covid 19, post-lockdowns and masks, post-'magnetic' Pfizer shots, post-murder in Meron, post-Ahuvya Sandek, and 'Officer X'.
So, believe what you want to believe.
There are consequences for continuing to live in the world of lies, and those consequences – both spiritual and material – are only growing, as time goes on.
====
If you can't see for yourself what's going on, I'm not going to tell you.
This is an olam hafuch, an upside-down world, a world full of lies.
Our sages warned us long, long ago that the 'successful' people – the people who get all the kavod, and all the people lining up at their doors, and all the positive press coverage – those are really the 'small' people, spiritually.
The bottom of the pile.
And the 'unsuccessful' people – the ones who everyone calls 'conspiracy theorists', and 'cult members'; the ones that get 'excommunicated' by corrupt Beit Dins in Bnei Brak; the ones that get negative, non-stop, slanderous 'coverage' in the media; the ones that are continually hounded and persecuted by the corrupt State, and it's corrupt institutions – those people are really the top of the top.
The holiest of the holy.
====
But that truth is only going to come out at the 'End of Days' – together with a whole bunch of other very uncomfortable truths about what is really going on here.
So believe what you want to believe.
All this is deja vu, just another spiritual test that God is administering, to see who had learned their lesson about believing the lying media and corrupt State, and who hasn't.
====
If you plotted a graph with 'fanatical believers in Covid 19' and 'accusers of Rav Berland', I think you'd probably achieve a 99% overlap.
It's all the same modus operandi, the same lies, the same procedure that we've seen by Ahuvya Sandek, and by the murder in Meron, and by the cover-up of the 'suicided' Officer X – and in getting millions of people to line up to get a dangerous 'gene therapy' that flooded their bodies with remote-controlled 'magnetised nanobots' that can hack their brain and their cells.
So, believe what you want to believe.
And then don't come crying, when all those media lies you believed lead you into a very dark place.
====
On a related, but totally different note:
I want to tell you about a new site, called 'Words from the Rav', that is bringing bite-sized 'Rav Berland' Torah to the web, and exploring how we can really apply that advice to our real lives.
You can see the site HERE – and I highly recommend it!
(And not only because it's my husband who is putting it together. I'll tell you more about how that happened another time.)
====
Here's the full URL, if you want to bookmark it, and the site is encouraging input from readers, to share their own ideas about what the Rav is really saying, and how to really put it into practise:
https://www.wordsfromtherav.com/
This is not 'top down' Torah – it's more about all of us banding together, to try to figure things out as a team.
And personally, I really like it.
====
UPDATE:
Take a look at this article, just put up on the RavBerland.com website, if you want to start to get some appreciation of who the Rav really is:
And let's all be on guard against the awful wave of sinat chinam all these awful politicians, and their supporters in the shadows, are trying to unleash on the nation.
Keep remembering, there is good and bad on every side of this equation, and only God is running the world and really deciding things.
Don't fall for all the nonsense these people are spewing trying to set up another 'them' and 'us' paradigm, and trying to encourage the different groups of Jews to hate each other.
Personally, I hate BAD ACTIONS.
I hate the EVIL, not the evil people.
(Mostly. Honestly, sometimes that's too hard to maintain 100%…)
====
They know that if the good people on all sides of the equation band together, then evil is finally finished.
And that's why they are trying to stir things up so much, right now.
====
You might also like this article:
https://www.rivkalevy.com/wp-content/uploads/2020/02/E-book-1.jpg
2560
1600
Rivka Levy
/wp-content/uploads/2019/04/rivka-1-2.png
Rivka Levy
2021-06-08 09:07:46
2021-06-08 18:00:56
Deja Vu