Back in September 2020, against all the odds, I found myself in Uman for Rosh Hashana.
***Updates Below***
My blog had been hacked within a few days of me arriving, so I ended up writing about what was going on for the RavBerland.com site, HERE.
Towards the end of my stay there, when it was a day before Rosh Hashana, and it was obvious that despite all the effort, all the contortions, to follow the 'Coronavirus Rules' in Uman as set out by the ISRAELI government, they weren't going to let anyone else into Uman, a bunch of leaflets got dumped all over the floor of Pushkina Street.
====
Here's what they said:
*Voted for Shas or Gimmel (United Torah Judaism)? You got Bibi and Gamzu, who chased after, with anti-semitism and cruelty, the Rosh Hashana of Rabbenu in Uman. Breslov chassid: remember, and don't forget!

==

*On the way to Uman for Rosh Hashana 5781: Thousands of Breslov chassidim experienced 20 days of exile and suffering in Belarus. And the 'chareidi' leaders in the Knesset, Deri, Litzman and Porush stayed silent. The chareidi newspapers, HaDerech, HaMevasar, HaModia, totally and utterly ignored the anti-semitic persecution of Breslov Chassidiut. Until when?? Breslov chassid: remember, and don't forget!

==

* Myriads of Breslov Chassidim are pointing an accusing finger against the Chareidi parties, who abandoned us, and our request to fulfill the will of Rabbenu, our teacher, his merit should protect us, amen, to come to him on Rosh Hashana. And even, [they] joined in with the wicked, cruel, anti-semitic persecution, that was without parallel, at the hands of Bibi Netanyahu and the members of his government. It won't be forgotten, and it won't be forgiven!

==

* Deri, Litzman and Porush! Myriads of Breslov Chassidim have a pained, broken and ripped heart, from the decrees of Netanyahu and Gamzu. How could you totally ignore what was going on? Breslov chassid: Remember, and don't forget!
====
When I wrote about all this back in September – how the 'chareidi' politicians, the 'chareidi' papers, the 'chareidi' movers and shakers totally turned their backs on thousands of pilgrims to Uman – and sided with the anti-semitic, evil government which was overtly and covertly persecuting them – I got some flack for that.
"Deri got you in to Uman…." I was told.
"UTJ went to bat for you. They did everything they could," I was told.
I didn't believe it then.
And I certainly don't believe it now.
====
I'm totally a-political.
I'm not a leftist, or a rightist. I don't vote. I believe all politicians are totally corrupt, and that the political system is a sideshow, a 'distraction' to make you and me feel like we really have some say in what's going on.
Really?
Every single politician is bought and paid for.
Part of the system of 'control from the top'. Anyone who can't or won't be 'controlled' doesn't last very long, or get very far.
Politics is a dirty business, lest we forget, and just having a beard and a rebbe doesn't change that.
====
So, I switched on my PC for the first time in days, and I saw this article that my friend sent me, from the Times of Israel:
WHY are they blocking an independent State Commission?s
The possible answers to that are terribly disturbing for 'frum Jews' like you and me – that's why we have to keep fighting the tendency to shove all this under the carpet, and run away from it.
We have to look this monster in the face, for the 45 people who died in Meron – and also for ourselves.
====
Then, I read all these statements by 'frum politicians' trying to slay any opposition to Netanyahu and 'the right bloc' – and honestly, I am totally sickened by them.
I sit here, I put two and two together – and I understand that all these people are really the same. They are serving the same god – i.e. themselves, and their own vested interests – except one group has a beard and a rebbe, and the other group doesn't.
45 people were deliberately murdered in Meron, on orders that came straight from the top.
And here we have 'frum yidden' who are not only going all out to cover that up, they are also actively praising the person who ultimately gave those orders as 'the savior of Israel'.
====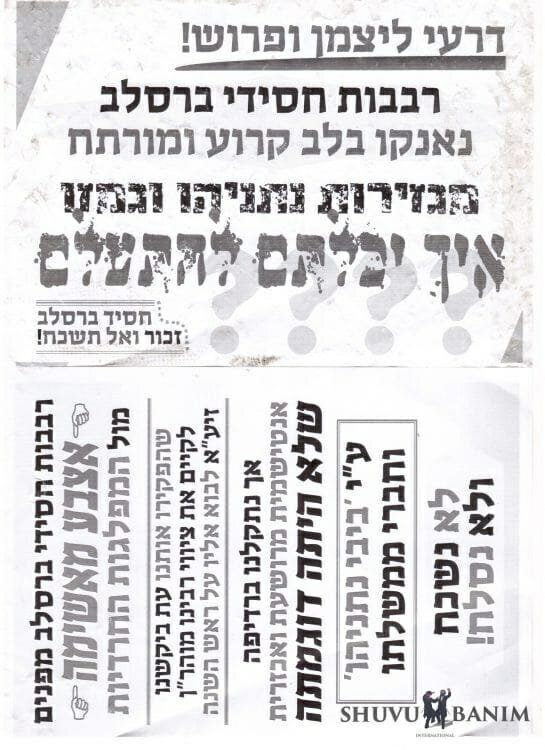 Let's update the stuff from Uman, for Meron:
* Myriads of frum Jews are pointing an accusing finger against the Chareidi parties, who abandoned us, and our request to fulfill the will of Rabbenu, Rabbi Shimon Bar Yochai, our teacher, his merit should protect us, amen, to come to him on L'ag B'omer – in a safe and respectful manner.

And even, [they] joined in with the wicked, cruel, anti-semitic persecution, that was without parallel, at the hands of Bibi Netanyahu and the members of his government, that resulted in 45 people being murdered in a crush that was deliberately created by the police at the bottom of the 'Reb Dov Shvil' stairs.

It won't be forgotten, and it won't be forgiven!
====
I know it's painful.
I know it's so, so disturbing.
But the rot here goes so very deep, in every direction.
====
Yesterday night, I had a very powerful dream, where the atrocity at Meron was being 'recreated' – i.e. the same thing tried again, except in a different location.
I watched as all these 'bad actors' pretended to be this person and that person, all following their script, all playing their part in a perfectly-choreographed 'drama' that was again designed to kill as many frum Jews as possible.
Except this time, in my dream, someone sounded the alarm.
====
Someone went around telling all the innocent members of the public that there were demons in our midst, 'dressed up' to look a certain way to fool the public, but who were really just 'bad actors', playing their part in trying to trap, injure and kill religious Jews.
So, when those 'bad actors' showed up with their gates, and their blueprint for how to crush more Jews to death – we fought back.
We stood up to them.
We didn't just 'roll over' and go along with what the 'Police Actors', and the 'Politician Actors', and yes, the 'Rebbe Actors' told us.
And  as soon as we did that, they – and the threat they really pose to Torah Jews and Judaism itself – disappeared just-like-that.
It was a good dream.
It came to teach a very important message.
====
Last week, one of my kids was a sadranit (usher) at a wedding for one of the big chassidic Rebbes, that got moved to the sports arena in Jerusalem, because it was 'safer' after what happened when the bleachers collapsed at the Karlin-Stolin shul in Givat Ze'ev.
She came home very disturbed by the whole experience.
She told me there were 10-11,000 people in the Arena – and every single one of them had a 'Green Passport' to flash, together with their entrance ticket.
My daughter has been an usher for quite a few different events the last few months, and even with 'secular' crowds, there is always a large contingent that doesn't have a 'Green Passport'.
And they are always let in, quietly, one way or another.
====
But that night, there was not a single person who wasn't waving a 'Green Passport' to show they'd been cheerfully 'vaccinated' in her face.
She asked someone what was going on, and she was told:
The Rebbe said everyone needed to get a 'Green Passport' in order to come to the wedding, so we all did it.
Just like that.
Apparently with no questions asked.
====
Moshe Leon, the Mayor of Jerusalem, was guest of honor at the wedding.
And my daughter told me that all night, there were massive adverts going on all over the place for the different kupot, or health funds, that exist in Israel.
When she asked someone what was going on, she got told:
How do you think we pay for all of this?
Ah.
Big Pharma and the Ministry of Health are funding chassidic weddings in Jerusalem.
That starts to explain so much, doesn't it?
====
The rot goes so very deep, and it can't be labelled as a problem just for 'secular' people, or 'leftists'.
Those 'bad actors' exist all over the place, they are on every side of 'the argument' – and usually, they are the ones who are leading all the machloket, and hatred of 'the other'.
====
I have so much more to say on this subject.
But I've said enough for now.
We need to stop making excuses for 'bad actors' just because they have beards and rebbes.
When things don't make sense – when they seem wrong, bad or dangerous – we need to find our courage and our voices, and to start speaking up and questioning what is really going on.
Pikuach nefesh – saving a soul, saving a life – is a massive mitzvah in the Torah.
There are people in the world who are mamash trying to kill us, just for wanting to live an authentic Torah life, and just for wanting to serve God and to believe in our True Tzaddikim.
And there are people with beards and rebbes who are 'in bed' with those evil people, and following the scripts they are being given to recite, to manipulate and control the people who believe they are really 'frum yidden'.
But this time, when the gates go up again – when the bleachers 'fall down' again – we need to push back with all our might.
Remember this. And don't forget.
====
UPDATE:
Yesterday, I went to see a good friend in Bet Shemesh I haven't seen for ages.
We were talking about what happened at Meron, and she told me the story of her gannenet's brother. (A gannenet is a kindergarten teacher.)
That brother had died in the crush at Meron.
People then came to his shiva, and explained how that brother had pulled them out of the crush, and saved their lives.
But then somehow, he was taken in an ambulance to hospital where he somehow – inexplicably – died.
Not only that, the hospital / Abu Kabir then refused to release his body to the family for two whole days.
My friend isn't a news junkie like yours truly, but she found something about this whole situation with the gannenet's brother terribly disturbing.
====
When I was discussing this with another friend, and telling her how Abu Kabir was refusing to hand over the autopsy results on the people who died to Lahav 443 – the police agency that is supposedly investigating what happened in Meron – my friend told me:
But we don't do autopsies in Israel.
And I just looked at her incredulous.
Because, of course that's what they were doing in Abu Kabir.
With or without the families' consent, because don't you know?
We live in a dictatorship, where things like 'free choice' and 'human rights' actually don't exist, and especially not for religious Jews.
====
There are some very disturbing implications here, for how Zaka, and United Hatzolah are really operating hand-in-hand with the government, to do things that should not be done, according to Torah law.
(In case you didn't know, Magen Dovid Adom is a government agency, just with a different name, so OF COURSE they are serving the State of Israel's agenda. But United Hatzolah and Zaka are meant to be 'independent' charities. In theory.)
====
When I went back to Meron, I realised two things about United Hatzolah:
There is a camera mounted on the wall of the 'United Hatzolah' command centre, directly at the bottom of the Reb Dov Shvil steps, were 45 people were deliberately suffocated to death behind a police barrier that the police are still claiming doesn't exist.
That camera is pointed straight up the enclosed 'alley' built by the Ministry of Health especially for this year's L'ag B'omer, and it for sure has footage of exactly how the exit was blocked, when, and by who – and the results of that action.
We know the police went through Meron disabling all the "independent" CCTV cameras in Meron the day before L'ag B'omer.
My gut is telling me that the United Hatzolah camera was still operating, and has a very important story to tell.
I want that footage to be made public.
====
2) The second thing I realised about 'United Hatzolah' is in plain view – and very disturbing.
And it is this:
That killer crush occurred RIGHT NEXT TO THEIR 'COMMAND CENTRE' IN MERON.
You see that brown / grey structure in the picture below, roofed with white sheeting?
That's the permanent 'United Hatzolah' central command post in Meron.
====
The United Hatzolah 'command centre is right at the bottom of those stairs, where 45 people died.
This makes it even more incredible to me, that a fatal crush developed over the course of 10 minutes – and it took 10 minutes before United Hatzolah 'arrived on the scene' to start helping people, and to put the call out about what going on.
How is this even possible?
Were the 'United Hatzolah' people in central command asleep, as that killer crush occurred right outside their window?
Why didn't they get involved immediately, to force the police to remove the gates and release the suffocating pressure on the crowd?
How could 'trained first-aiders' not recognise what was developing, literally before their eyes, and NOT CALL FOR HELP FOR TEN MINUTES?
====
And then there are more first-hand accounts, like THIS, sent to me by one of my readers, written by a mother who had several children caught up in events at Meron, including by those stairs:
When I checked the news Sunday morning, it was like reading about a completely different event than the eyewitness reports I heard.

What those attending all said – that I didn't see discussed at all in the English news – was that the sole exit from the Toldos Aharon hadlaka was blocked by a gate put up by the police. At the same time that more and more people were allowed in at the entrance, no one could get out, leading to a deadly crush and numerous people dying of suffocation.
====
Here's another snippet from those eye-witness accounts:
When the announcement was made that people had died, the atmosphere at Meron changed in an instant. All music and dancing ceased immediately, replaced by tehillim, crying, screaming. Everyone was ordered to leave – at least 100,000 people.

But there was no plan, no clear evacuation directions. People were told to go in one direction and ran there, to be told they had to go in the other direction and then ran in that direction.

No cars were allowed in, no buses were allowed in. There was almost no cell coverage, people couldn't call for help, look up directions, or contact family members whom they were separated from.
====
Whatever else the 5,000 police assigned to Meron were doing that night, 'helping people' and 'maintaining safety and order' was not on the priority list.
====
Dear readers, this is still only the tip of the iceberg.
Why are our 'chareidi' politicians – and the 'religious leaders' who are backing them – trying to quash an independent State Commission into Meron?
Why is it that a month on, the police haven't even questioned the policemen and women who were directly involved in the incident, nor any other official?
This from HERE:
Kikar HaShabbat news site has stated that thus far the police are just conducting checks and have not yet investigated any police officer or official.
====
If all this isn't setting off the 'massive cover up' alarm, then I don't know what will.
The State of Israel – and all the 'frum yidden' who are working hand-in-glove with it, despite appearances to the contrary – want this story buried and forgotten about.
Because when the truth comes out, we're all going to understand what we are really dealing with, and how much moral corruption of every stripe exists on all sides of this equation.
But the blood by those stairs in Meron is literally boiling.
And this story is not going to just 'go away', until real justice has been done, and those responsible for the murder in Meron are exposed, and brought to justice.
TBC
====
You might also like this article:
https://www.rivkalevy.com/wp-content/uploads/2021/06/Uman-remember-this.jpg
545
750
Rivka Levy
/wp-content/uploads/2019/04/rivka-1-2.png
Rivka Levy
2021-06-01 07:50:48
2021-06-02 08:05:18
You voted for 'frum yidden' - and you got Netanyahu