More and more, I'm seeing that the only real answer here is to just start praying our socks off, and to get behind the True Tzaddikim.
The more I'm researching, the more I'm understanding what we are really up against, and how 'hard' – nay, impossible – it's going to be to deal with this in 'real world' terms.
Even if I sit here spelling things out day after day, month after month – what is that really going to change?
How many people are going to use that information to 'go against' the evil paradigm we're caught up in, at every level?
How many people didn't get the experimental-gene-therapy-deceptively-called-a-vaccine?
How many people stopped blindly following all these false rabbis?
How many people really made some sincere teshuva, about all the lies they've been accepting and encouraging and promoting in their own lives?
====
Now I know that the war is really and truly about information – gnosis – I'm understanding that simply putting out more and more information isn't going to win it.
This war can only be won with prayer and teshuva.
Not with more facts and stats and information.
Because there is a difference between how people react to information, and how people react to insight, that they get from their own neshamas.
Once you have an experience of inner daat – knowledge that kind of just pops up in your soul, direct from Hashem – it can keep you going for years.
====
So, let's try this today:
A new prayer from the Rav, for the True Tzaddikim to be revealed in the world.
You can see it HERE, but I'm copying it below.
This is the only way we can really 'win' this war of information.
By praying to God for help to overcome the evil, and attaching ourselves to the True Tzaddikim.
====
Rabbi Berland's Prayer to merit that the True Tzaddikim will be openly revealed
Master of the world who can do anything, please do miracles and wonders for me, like You did for Eliyahu HaNavi and Ovadiah, who succeeded in hiding 100 prophets, 50-50, in two caves.
And the wife of Ovadiah would go from house to house to collect oil, and they would only give to her one drop, and no matter how much she collected, the oil would always burn and stay alight for 24 hours, from evening until evening.
So too, Master of the world, who can do anything, reveal to us the true Tzaddikim, who are now hidden from us.
And may they be revealed to us speedily.
And right this second, cancel the 'hiddenness within the hiddenness'.
And may they not be hidden from our eyes forever.
And may we always merit for them to be revealed.
And may they guide Am Israel with mercy and bring us always to holiness and purity, that is openly revealed.
And may we not be afraid from any oppressor or enemy, and it shouldn't be necessary [for the True Tzaddikim] to be hidden any more, on account of the wicked who pursue the tzaddikim until their destruction.
And may they [the True Tzaddikim] always be revealed before us, forever.
====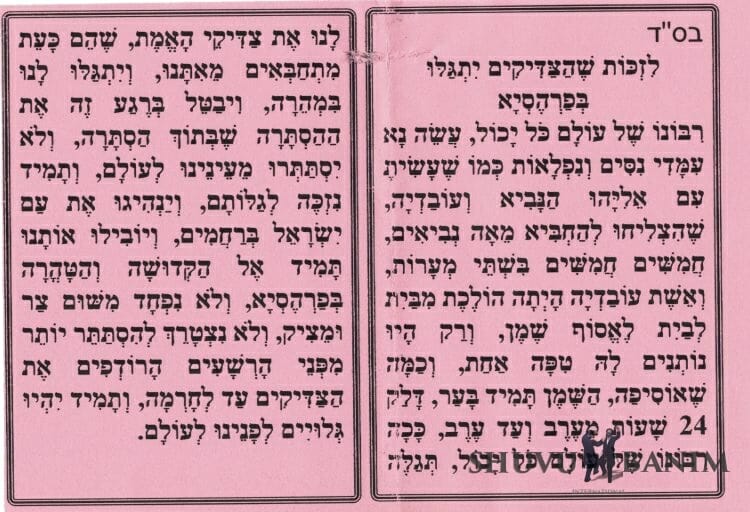 https://www.rivkalevy.com/wp-content/uploads/2020/02/E-book-1.jpg
2560
1600
Rivka Levy
/wp-content/uploads/2019/04/rivka-1-2.png
Rivka Levy
2021-03-15 10:40:44
2021-03-15 10:40:44
The only answer