Rosh Chodesh Adar rolled in, and I felt a black cloud start to descend.
So much fear about 'what will be'…
So much sadness about what is ALREADY happening….
So much anger about all these dumb, evil people, all these 'selfish narcissists', psycho parents, egotistical bloggers, fake prophets, Dr Evils, neo-brown-shirt politicians, bureaucrats and journalists etc etc etc.
Man, I've been swimming in an ocean of difficult feelings the last few days.
====
Just so much anger at God, so much worry about everything that's going on, so many recriminations against other people.
And then yesterday, I realised something that changed the whole picture:
I'm having a flashback.
I wrote all about that on my old website, which is sadly no more, but the basis idea is that 'big feelings' that we couldn't deal with from the past can roar back in the present, and 'drag us back' to that traumatised state of mind that was never properly dealt with and defused.
====
As soon as you realise what's going on with emotional flashbacks, they diminish by at least 75%, instantly.
What sparked my 'flashback' off was a few different things, including in no real order:
Getting into a minor car crash – which reminded me of the horrible crash I had after the Baba Sali, that meant I had to sell my house and move to Jerusalem in very difficult circumstances.
Having to deal with someone else's 'psycho mum' – which reminded me of the horrible narcissists I've had to deal with in my own dalet amot – until everything got sweetened with a few different pidyonot paid across to Rav Berland.
Seeing that video by Yair Elitzur, filmed in Chut Shel Chesed – which brought back to me just how many high hopes we had when we first moved to Jerusalem of belonging to a real, Breslov community. And how badly they got dashed.
====
If you've been with me on the blog for a while, you'll already know what I'm talking about.
And if you haven't been with me that long- go buy THIS or THIS or THIS on Amazon, and catch yourself up.
Point is, God has been shoving all these 'unprocessed' emotions in my face the last 3 days, because He finally wants me to really deal with them.
And point is, probably He's also been shoving a whole bunch of 'unprocessed emotions' in your face, too.
So, it's not that your husband / mother-in-law / boss / kid / neighbor is now more annoying and upsetting and dumb than they've ever been before.
It's just that God is using them to do some emotional spring-cleaning.
We're coming down to the wire, there is no more lying to ourselves about what we really think and feel, what we're really experiencing and why. This is the world of truth, people, and it's roaring in a million miles an hour.
====
So, once I realised all this, and I spent some time in hitbodedut finally acknowledging all these deeply buried, undigested feelings, I started to feel way, way better and happier and calmer.
And probably, you will too.
====
I speed-watched most of Rav Anava's new shiur yesterday, and he made some good points, similar to what I've been banging on about on this blog for years, that working on our bad middot is the real test, before geula kicks off in earnest.
(Ooooo, I just had a thought: do you think that I could be Moshiach? I mean, I have a blog…. and I (sometimes…) talk about Torah sources… and (two years ago) I also had a Youtube channel… and I also called out Bill Gates for being a psycho eugenicist when that wasn't so popular…)
No?
Ah well.
Maybe if I had more of a beard….
====
Which brings me to this:
If you want the upshot, it's basically saying that having some of the Rav's prayers in the house is akin to smearing blood on the lintels, ahead of the Plague of the Firstborn, that decimated Egypt – and finally led to the Israelites being freed.
The way things are going, I would highly recommend you get your skates on, and get some of those prayers for yourself, your friends and your family members, while you still can.
(Reality check: I have a lot of friends and family members that I've basically given up on, when it comes to Rav Berland.
I guess this is the midda kneged midda part of the process, that anyone who bought all the media lies about the Rav has removed themselves from being able to access the protection of segulot like this. It's sad, but I can no longer be bothered arguing with anyone, directly, and they'll have to live with the consequences of their own decisions, like we all will.)
====
The latest update on the Rav is that last week the court decided that he could go to house arrest, if he puts up a total of 4 million shekels (!!!!) in bail money, and agrees to have no phone, no contact – at all – with the outside world, and especially not his community.
Let's be clear: THERE IS NO CASE.
There never was.
And even if there was a case, surely the year he's already spent in prison would be equal to any possible sentence they could hand down for the 'crime' of doing pidyon nefesh for people?
So, thanks for nothing, cr*ppy State of Israel, who is now extorting a huge fortune out of the Rav and his community, at a time when all the borders are apparently sealed shut, so the 'flight risk' is the lowest it could possibly be.
But it's still progress, of sorts.
Moshiach is riding on a donkey, the process is going excrutiatingly slowly, but it's still going.
====
Which brings me to this, the last thing for today.
It's a comment that was left on both the Shirat Devorah and Tomer Devorah blogs – bloggers who bought all the lies about the Rav, and so now refuse to link to anything from the ravberland.com website, or about the Rav.
Which is a shame, because that's where you are really going to find the real information, the real news, you need to get through the next part of this process intact, however 'switched on' you might otherwise be.
The commentator, who calls themselves 'Real News', basically synthesized a lot of information from the English and Hebrew Shuvu Banim sites, amongst other places – but God forbid, anyone should link to those sites, or say anything positive about Rav Berland in the comments section of those blogs!!!
I mean, Rav Berland doesn't have a blog… or a youtube channel… and he never called out Bill Gates for being a (probable) transgendered eugenicist loving psycho live on TV, so for sure, he can't be Moshiach….
====
Here's the comment, in the meantime.
I'm bringing it because that 'fear' the Rabbanit Stern spoke of, starting Rosh Chodesh Adar, is internal.
It's linked to all the unfinished emotional business I covered above.
Forewarned is fore-armed, because this process is only going to intensify now, regardless of the Covid 19 Purimshpiel, or the 'Iranian Nuke' Purimshpiel, or the 'war between settlers and arabs' Purimshpiel, and all the rest of the fake news.
The real war of Gog and Magog is emotional; it's internal; it's the war of emuna and emunat tzaddikim.
It's the war of finally owning up to our bad middot.
And if you've been skipping doing that work – well, the consequences of your actions and ego are about to be revealed openly.
There's no more running away.
There's no more hiding.
Because that 'donkey' that Moshiach is riding is almost here.
====
Real News said…

On June 11, 2020, Rav Yehuda Sheinfeld said, "We are in the last stages of the chevlei Moshiach (birthpangs of the Moshiach). All that's left is the final few months of the chevlei Moshiah."

Rav Yehuda Sheinfeld, shlita, is a well-known kabbalist, and close student of the late Milkman, z"tl (https://bit.ly/2ZcJh1B).

This article was published on June 11, 2020. From June 11, 2020 to March 14, 2021 is 9 months and 3 days. Fortunately, the Gemara says that in [the month of*] Nissan we were redeemed from Egypt and in Nissan in the future we will be redeemed in the final redemption (Rosh Hashanah 11a).

*Not on Pesach.
———–
On October 14, the daughter of Rav Dovid Chaim Stern, one of the biggest Kabbalists living now, Rabbanit Stern who is a very big Tzaddaiket said the following:

Then she said: Listen well – the Mashiach is very close and will be revealed soon. In the month of Adar, there is going to be a lot of chaos in the world, in Israel and all over the world, there will be tremendous confusion, many people will die.

Many well respected rabbis are also not going to merit receiving Mashiach, they will not survive, because they are not really tzaddikim.

Why? She said that for them the main thing is learning Torah and they disregard all the requirements of bein adaim l'chaveiro, how a person is supposed to treat others. Love of your fellow man. Not to listen or speak lashon hara.

All those people defile the mitzvah of doing chessed/kindness to others, will not be around when Mashiach is revealed. Ba'alai Machloket, those who stir up strife, will not be around.

Also, those who are not tzinut/modest, they will also not be around when Mashiach comes. Everyone now has time to fix the sin of lashon hara/speaking or thinking badly about others. We have until around the month of Adar (the month when Purim falls), which is around March. It is 4 months from now.

Everyone needs to fix everything in the next 4 months. She continued and said that those who remain will merit to greet Mashiach in the month of Nissan (the month when Pesach falls).

Rabbanit Stern herself said in a recording that there will be tremendous fear, in the world, in the month of Adar. Everyone in the world will be scared, more than right now.

She said, the main thing to work on is Interpersonal Relationships.

The Redemption already has begun, but it is hidden.

There are a lot of people who will not merit to be around.

She said by Pesach there will be a beautiful Redemption (http://bit.ly/3pkDod6).
—–
Remember, you can go HERE to download a bunch of Rav Berland's prayers for free, to distribute.
And you can also get hard copies of all four of the prayer books on Amazon, by clicking the links below:
Rabbi Eliezer Berland's Prayers: Prayers for every day, and every situation
Rabbi Eliezer Berland's Prayers 2: Prayers for Health and Wellness
Rabbi Eliezer Berland's Prayers 3: Prayers for Holy Children
Rabbi Eliezer Berland's Prayers 4: Prayers for Shalom Bayit
====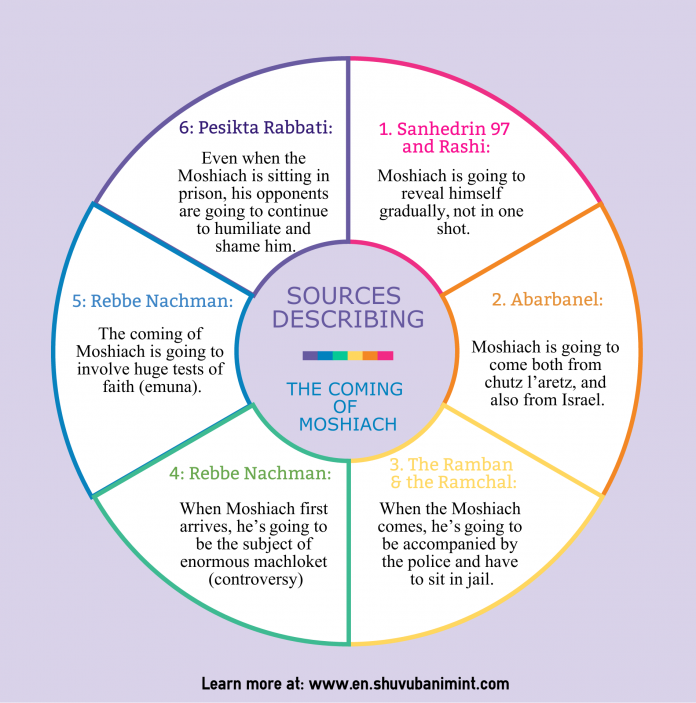 ====
UPDATE:
I got this message from Ida-Fake-Name, and it's making some good points, so I thought I'd post it up:
Name: Ida-Fake-Name
E-Mail: ida@fakename.com
Subject: comments – the light in the darkness
Message: Dear Mrs. Levy,
This is in response to your responses in the comments section and your newest post. Since the original intent was not in any way to embarrass you, it seems better to respond in a private message… feel free to copy any or all of this to comments or other posts (not out of context, of course). The intent is to help, not to attack and create machloket.
The intent of the original comment was not for bizayon or to attack Rav Berland or you. You generally have very thoughtful posts with a high degree of scrutiny – your "BS-O-Meter" or whatever you want to call it. Generally you investigate things and present them with a critical approach…
In this post, you started writing about all the experiences bringing back different things that needed to be sorted out, etc., and how you were trying hard to change the narrative of Adar / Purim of past years. You talked about spring-cleaning and self improvement, etc., which were great thoughts, insights, goals, and everything. Then you went on to mention Rabbi Anava's shiur… and went on to make what was either an attempt at humor or a passive aggressive attack either on Rabbi Anava or on other people who hold him in high esteem. The whole "(Ooooo… do you think that I could be Moshiach? blog, youtube, bill gates, etc… maybe if I had more of a beard…" You just got done writing such wonderful things about self improvement, working on middos, etc., then continue into making fun of a rav who, whatever you think of him or others' opinions of him, has totally dedicated himself to serving Hashem, to emet, to teaching other people and has seriously impacted thousands upon thousands of lives with his shiurim. Whether you agree with him or what others think of him or whatever, the point is is that he's a holy Jew who is trying to bring kavod Shamayim to the world… and he's being made fun of – again, not clear if you're just being silly or whatever, but it comes off as passive aggressive / bitterness, perhaps even bitter that there are people out there who rejected Rav Berland while seemingly embrace Rabbi Anava (this especially seems true based on the later paragraphs about two other blogs who bought all the lies and about "Rav Berland doesn't have a blog… etc etc etc… he can't be Moshiach…"). With all of the talk about loving people, accepting them, seeing that they're here to help us with our middos, fix ourselves, etc., this feels pretty bitter…
That's what initiated the original comment, although looking at it again, that wasn't really clear to you that it was the motivation… personally, it really had nothing to do with accepting or rejecting Rav Berland either as a holy Jew, a rav, the tzaddik of the dor or anything.
At the very least, you have made a very convincing argument (here and previously) that Rav Berland has been treated unfairly by the state (understatement) and someone has an agenda to keep him from what he should be doing on behalf of the Jewish people.
That being said, a short while back, you posted the audio of Rabbanit Stern warning very literally to prepare talit / tefillin, a wallet, etc., to be prepared to escape to wherever and you very clearly wrote that you didn't know to believe it or not, but what would it hurt to be prepared. Fine – but it clearly didn't happen on Rosh Chodesh the way described in the audio… you went on to write "I'm bringing it because that 'fear' the Rabbanit Stern spoke of, starting Rosh Chodesh Adar, is internal." So now things are being "interpreted" – sure she said to literally prepare a wallet and talit / tefillin and get ready to run to "you'll know where" on Rosh Chodesh… but she didn't really mean it literally – it's a metaphor or something.
That's what it sounds like you're saying… which is what was written in the original comment that if someone else related to something like that in a similar way, you would probably call them out on it. It's like you couldn't say she was wrong, because now she has something new to say that is good or helpful or whatever… you went on to quote a comment someone else posted, I think from Rav Berland's website, that Rabbanit Stern is making more predictions or whatever… but who is she and based on what should we now believe her? Because her previous explicit predictions / warnings were inappropriately taken literally when really it was all figurative? On rosh chodesh we were supposed to sleep with our figurative wallet next to our bed and be ready to escape in a metaphoric way for really being somehow turned upside down internally to work on our unfinished emotional business?
"She said by Pesach there will be a beautiful Redemption" – certainly we all hope so!! But was that contingent on the whole upheaval on Rosh Chodesh Adar that didn't take place? Or really it did in a spiritual / metaphoric / internal way and whoever "ran out with their wallet" in an internal way will now be redeemed?
The point isn't to keep harping on all of this – my problem was with the less than critical analysis of Rabbanit Stern's previous warning, then jumping to bringing more of her predictions – from my perspective, none of it had to do with Rav Berland one way or the other – from what is written on your blog, it doesn't look like what Rabbanit Stern said related to him directly.
In summary – your whole post started talking about how we need to relate to what happens to us by working on our middos, fixing ourselves (ie, it's not about the other person, it's about looking inward). Then you apparently mocked Rabbi Anava (which again, regardless of what you think of him or what people say about him, he's very sincere in his intention), and seemed very bitter… that was followed by not adequately addressing a failed prediction, then bringing further predictions from the same person… then in the comments when the whole part about the comments of Rabbanit Stern were being related to, you responded very angrily and rudely and defensively about the comment having a "dissing the Rav vibe" that you picked up from a mile away.
It seems you should have taken the time to relax and examine it from closer than a mile away and perhaps you could have deciphered the original intent. Apologies for not making it clearer and more explicit and also for seemingly calling you out in the comments – the intent was not to embarrass you, but more to challenge you. You many wonderful things and seem like you want to get to the emet, whatever it is, and therefore challenging your conclusions seemed within the realm of acceptable. Please don't take it personally and forgive me.
====
Takeaways:
Thanks for prompting me to clarify that my intention was not to mock Rav Anava, God forbid.
He's a brave person, and he's doing his best to strive after truth. My intention WAS to mock the people who keep coming up with one 'personality' after another who they think is moshiach – including politicians, ex-cons and even non-Jews, without even trying to consider whether they 'fit' what the Jewish sources say about the identifying signs for Moshiach.
I can see that I was writing from a bitter place, for a few different reasons, and I appreciate the thoughtful discussion about it. As always, I'm a flawed human being, and I was having a really bad few days, when I wrote this piece.
2. I forgive you, Ida-Fake-Name, for the upset caused.
Please also forgive me for carpeting you publically on the blog.
As a footnote, it would be much easier to avoid nastiness if you would use your real name in future, when commenting.
I try to abide by the laws of lashon hara, but when someone is 'anonymous' – they don't apply. And that's sometimes too hard a test to pass, to have a loophole for evil speech and not to use it.
3. I AM very frustrated with a lot of the bloggers out there.
It's frustrating me that other 'opinion formers' in the Jewish blogging world are refusing to even discuss the possibility that they got it wrong about the Rav.
But you are right, that approaching this subject with bitterness is counter-productive.
God is doing everything, after all, even apparently hardening the hearts of these people.
So, BH, we're squared off now, and I'll put a comment up under the other comments, so people can come check back on the update for this post.
====
You might also like this article:
https://www.rivkalevy.com/wp-content/uploads/2021/02/abdulaziz-sopranos-8cy5TUimC7g-unsplash-scaled.jpg
2560
1440
Rivka Levy
/wp-content/uploads/2019/04/rivka-1-2.png
Rivka Levy
2021-02-14 14:11:58
2021-02-16 18:02:38
The light in the darkness