Back at the end of January, I decided to start doing 40 days at the Kotel for a chareidi family I've become acquainted with, who are seriously messed-up.
While the mother is practically a burka-babe, and the father likes to spout pointless divrei Torah for hours (that no-one can interrupt or disagree with, as that would be disrespectful) most of their kids are off the derech, most of them started smoking aged 12 and one of them preferred to leave home and to sleep on the streets than stay at home.
Coming from my own background, and experiencing what I've experienced in life, I found it so very hard to try to judge this family favorably, l'chaf zchut, or to do Azamra on them, as per the instructions of Rebbe Nachman in Likutey Moharan, 1:282.
There, Rabbenu tells us:
Know: one must judge every person favorably. Even if the person is totally wicked, one must search and find in him some bit of good, regarding which he is not wicked. By finding in him this bit of good and judging him favorably, one actually elevates him to the direction of righteousness and is able to bring him to repentance.
====
I really want this family to make teshuva.
The mother spends most of her time with her kids carping about their faults – to their faces – and complaining that they've let her down and come out 'ruined' because they aren't frum enough. Never mind all the kids' good points. Never mind all the effort they are still making to try to respect their parents, and to take all the blame for their own profound emotional issues upon themselves.
Whenever I hear her interactions with her children, I literally start cringing inside. It's a non-stop fountain of onaat devarim,  poisonous self-righteousness, criticism, lashon hara and arrogance.
But she thinks she's a tzaddeket.
Why?
Because she dresses SO tzniusly…. And she won't eat meat anymore because no hechsher is good enough…. And she has no tumahdik computers in the house (which means her husband is really struggling to make parnassa, but hey, let's not hairsplit here)…. And she won't listen to any music – at all! – because she can't be sure it's coming from a good, kosher place.
Such a tzaddeket.
Did I mention that the family is strongly Litvish, and kind of 'anti' Breslov, and especially 'anti' Rav Berland?
No?
Ah, my bad, sorry.
====
So, like I said, I've been really struggling to do Azamra for these people – and all the hundreds of thousands like them in the chareidi world, who are so anal about all their mitzvoth bein adam l'makom, and so very awful in their mitzvoth bein adam l'chavero.
In the chareidi world as it's currently configured, your choice is to become a frum robot – and to totally choke down any vestige of individuality or independent thought, and to care more about what the neighbors think than what Hashem really thinks – or to leave.
Thank God for Rebbe Nachman, because when I was faced with this choice, at least I could still find refuge in Breslov.
Or at least, the Breslov of Rav Berland and his students, that welcomed Sephardim, and baal teshuvas, and people like me, who were never going to fit the 'frum robot' mold that is de rigeur in mainstream chareidi society.
That strand of Breslov emphasizes the inner world over the outer appearance. It values practice over preaching. And it underscores again, and again, and again that the main work we are down here to do is to work on our own bad middot, and particularly those feelings of arrogance that take us away from Hashem, cut us off from our own neshamas – and hurt so many of the people we should be caring for.
Especially our kids.
====
So, I started that 40 days 3 months ago, and man, it's been a struggle for so many different reasons.
Today, I got up early to make sure I'd get to the Kotel to complete the 40th day, in the middle of all the 'Yom Yerushalayim' (non) celebrations.
When I finally got my 1 minute 'slot' to stand at the wall, I got there, kissed it, then started crying.
God, it's too hard for me. I can't judge all these horrible, arrogant people favorably. I can't think good thoughts about people who prefer seeing their own kids sleeping rough on the street than 'looking bad' in front of the neighbors.

I can't stand the hypocrisy, I can't stand the lack of real connection to Hashem, I can't stand all the pretend piety, controlling emotional manipulation and holier-than-thou fakeness. 

God. I've failed. This 40 days has failed.

I'm doing less Azamra now for these people than when I started….
====
Deep down, I know nothing is for nothing, but that's how I felt as I left the wall this morning.
====
I came home, checked my emails, and found one from someone called rivkyalbert@gmail.com that said in big, crowing capital letters:
GAME OVER!!!
She'd kindly forwarded all the 'psak din' that had just come out against Rabbi Berland from an anti-Breslov beis din located in Bnei Brak, that she'd got straight from the Rav's main Breslov persecutors.
There's so much to say about what's going on here, and after I've done more hitbodedut, if God wants me to start clarifying matters – again, for the 500th time – then I will.
But in the meantime, I'm in no rush.
====
You know why?
Because I understand that this is a very important part of the clarification process.
Just like God kept on hardening Pharoah's heart in Egypt, so he could maintain his free choice, so God is doing the same thing here.
After all the mounting evidence of the last few months that the State of Israel has been waging a war specifically against the chareidi community…
After all the mounting evidence that the media is totally biased and corrupt, and bought and paid for by vested interests that are 'anti-God' in the most profound, evil way…
After all the arguments that have occurred recently in the chareidi world between those people who think that praying to God is dangerous, and those who think the opposite…
After all the deaths in the chareidi world globally that were attributed to COVID-19…
After all the strict lockdowns of specifically chareidi neighborhoods…
After all the kabbalists, and big rabbis, and lamed vav Tzaddikim who stated plainly that talking against Rabbi Berland is directly connected to COVID-19….
====
So, the test is being repeated again, to see who has really learned their lesson, and who hasn't.
====
I'm in no rush to explain what's going on here.
God has given the chareidi world – and all the other 'anti Rav Berland' people – a large quantity of rope, and He's waiting to see who is going to hang themselves with their own evil speech, and their own bad middot.
Rebbe Nachman told us that before Moshiach would come, heresy would cover the land like a flood, that even 'big rabbis' and 'Torah scholars' would have heresy dripping out of their pockets, and that most of the leaders of Am Yisrael would be false.
There is a birur going on here.
It's picking up speed.
It's becoming more and more obvious that a person's middot and real connection to Hashem can't be judged by their appearance, position or title.
But by their actions. And their deeds.
And most of all, whether their homes are full of love and kindness and shalom bayit, and full of children who feel loved and accepted in their homes – or not.
====
The last thing for now, is that it's no coincidence that as all the lashon hara about Rav Berland ratcheted up a level today, this was the lead story on the JPost website:
====
Walking around today, I see that the masks seem to be making a come back in Jerusalem, after a week where more and more people had stopped wearing them.
Logically, this makes no sense. The weather is still hot. Everything is meant to be 'opening up' more and more.
But spiritually, it all fits perfectly.
Thanks to that 'beis din' in Bnei Brak, which has unleashed another, awful wave of sinat chinam and lashon hara against Rav Berland,  I reckon we are now about to head into a second wave of COVID madness.
So, go stock up on your water, toilet paper and whatever else you need now.
Because the next stage of the birur has arrived. And if you thought the police brutality against the chareidi communities in Israel and beyond was bad before, I have a feeling that far worse is now to come.
Unless we finally make teshuva, and stop pretending that we're the biggest tzaddikim on the block.
====
UPDATE:
Strange as it sounds, the majority of the Shuvu Banim community seem to be doing OK with this 'psak din' – even feeling relieved and calmly content.
Why?
Because we all knew that 'beit din' was anti-Breslov and anti-Rav Berland right from the start, so no-one is shocked at this outcome.
Also, the Rav was hinting for years that something like this had to happen to get us to the next stage of geula.
And also, because it's a relief that this 'fig leaf' has now been provided by Hashem, to unmask all those yucky horrible people who pretend to be religious, and who pretend to be connected to Hashem.
====
Yalla, yucky people!
Write as many horrible comments and posts as you can in the short amount of time that probably remains to you!
It's all dissing diamonds, it's all helping the Rav to sweeten the judgments, and it's helping his community too.
It's like I told someone close to the Rav who called me before Shabbat feeling quite shaken up and upset:
I'd much rather have all their dissing and carping, and keep my health, shalom bayit and parnassa, than the opposite.
I'm (trying to be…) a sincere student of the Rav, after all, and here's what he's been teaching us for years: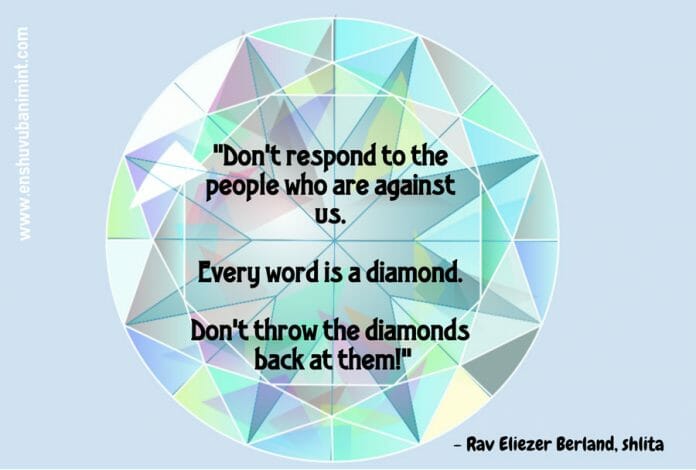 ====
God will deal with all the yucky people in due course – and it won't be pretty.
So, hang on my sweet readers! This is a bump in the road, but it's a necessary part of the geula process to unmask all those pretend frum fakers out there, and show us all what we're really dealing with.
And it's already working!
BH, the revealed good is on the way soon, and in the meantime, don't throw the diamonds back.
They are 'buying' us good health, shalom bayit, parnassa, and all the other good stuff that's really important.
And the truth will out soon enough.
People are already nudging me to write Volume III of One in a Generation….
And I'm almost ready to say yes.
====
You might also like this article:
https://www.rivkalevy.com/wp-content/uploads/2020/05/paul-smith-qmWmzwXb1kI-unsplash-scaled.jpg
1629
2560
Rivka Levy
/wp-content/uploads/2019/04/rivka-1-2.png
Rivka Levy
2020-05-22 11:08:31
2020-05-23 21:11:22
The 40th Day