I was contacted yesterday by the attendant of a Lamed Vav Tzaddik – a hidden Tzaddik.
They told me something very disturbing that the Lamed Vav Tzaddik said yesterday about the Corona Virus. I can't tell you who the person is, but I know the source is genuine. Here's what they told me, in the name of the Lamed Vav Tzaddik:
"The authorities are lying about the true extent of the Corona Virus. There are 10,000 people being infected with it an hour. There is currently a decree of total destruction against the world."
====
I have to say, all this is scaring the pants off me, and I really don't go in for fear-mongering posts any more, because I think most of them are just trying to scare people to boost ratings.
However, because I know which Lamed Vav Tzaddik actually said this, I'm taking it deadly seriously.
Yesterday, Rabbi Berland wrote a prayer to protect the world from the Corona Virus, that he said will sweeten this decree, if the prayer can be translated into as many languages as possible, and sent all over the world, for people to read.
So far, they have it translated into about 20 different languages – including Chinese!
I'm putting the English / Hebrew translation here below.
But let's help to get this thing around, and let's plug some industrial emuna and emunat tzaddikim into this equation, pronto.
====
10,000 new cases an hour means that around 250,000 people are falling sick EVERY SINGLE DAY. 
We are at pandemic levels already – and most people don't even realise it, as there is a lag between when people catch it, and when it shows up. And also, the news is being manipulated, although we can see with our own eyes how they are closing down all interaction with China and cancelling flights etc.
As soon as this thing obviously jumps outside Chinese borders, we are dealing with a really, really bad global situation.
The airports will be closed, travel will be seriously restricted – and the economy will go into freefall.
That's not breathless speculation, just a factual account of what will happen if Corona Virus continues to spread the way it appears to be. It's fatality rate is being grossly under-reported.
While 'official' figures are saying the numbers of people dying are 2%, yesterday there was an expected 'leak' on the Taiwan National News Agency that had the numbers of people infected standing at 154,023 (around four times the 'official' figures) – and the number of deaths is standing at 24,589 (as opposed to 450).
That report was quickly censored – three times in a row – but that means that the fatality rate is 16%.
That is really scary.
Here's the prayer, HERE is the link for all the translations, and please get this out there, so it can be sweetened.
====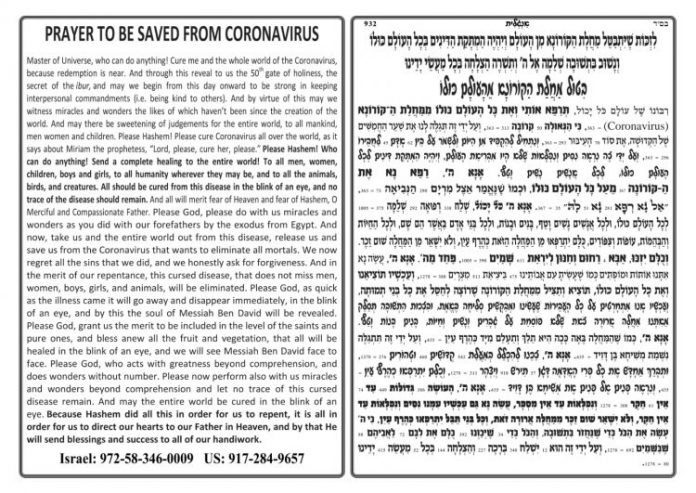 ====
PRAYER TO BE SAVED FROM CORONAVIRUS
Master of Universe, who can do anything!
Cure me and the whole world of the Coronavirus, because redemption is near.
And through this reveal to us the 50th gate of holiness, the secret of the ibbur, and may we begin from this day onward to be strong in keeping interpersonal commandments (i.e. being kind to others).
And by virtue of this may we witness miracles and wonders the likes of which haven't been since the creation of the world. And may there be sweetening of judgments for the entire world, to all mankind, men women and children.
Please God! Please cure Coronavirus all over the world, as it says about Miriam the prophetess, "Lord, please, cure her, please."
Please God! Who can do anything! Send a complete healing to the entire world! To all men, women, children, boys and girls, to all humanity wherever they may be, and to all the animals, birds, and creatures. All should be cured from this disease in the blink of an eye, and no trace of the disease should remain.
And all will merit fear of Heaven and fear of God, O Merciful and Compassionate Father.
Please God, please do with us miracles and wonders as you did with our forefathers by the exodus from Egypt. And now, take us and the entire world out from this disease, release us and save us from the Coronavirus that wants to eliminate all mortals.
We now regret all the sins that we did, and we honestly ask for forgiveness. And in the merit of our repentance, this cursed disease, that does not miss men, women, boys, girls, and animals, will be eliminated.
Please God, as quick as the illness came it will go away and disappear immediately, in the blink of an eye, and by this the soul of Messiah Ben David will be revealed.
Please God, grant us the merit to be included in the level of the saints and pure ones, and bless anew all the fruit and vegetation, that all will be healed in the blink of an eye, and we will see Messiah Ben David face to face.
Please God, who acts with greatness beyond comprehension, and does wonders without number. Please now perform also with us miracles and wonders beyond comprehension and let no trace of this cursed disease remain. And may the entire world be cured in the blink of an eye.
Because Hashem did all this in order for us to repent, it is all in order for us to direct our hearts to our Father in Heaven, and by that He will send blessings and success to all of our handiwork.  
====
====
Photo by Lucrezia Carnelos on Unsplash
https://www.rivkalevy.com/wp-content/uploads/2020/02/lucrezia-carnelos-86Sxw0b9llU-unsplash-scaled.jpg
2560
1920
Rivka Levy
/wp-content/uploads/2019/04/rivka-1-2.png
Rivka Levy
2020-02-07 09:50:31
2020-02-07 09:50:31
Message from a Lamed Vav about the Corona Virus