Join in online if you can't make it in person:
====
The Rav has called for another prayer gathering, or atzeret, this Thursday evening, at 10pm in Hevron.
For more details or how to get there, or how to find a subsidised bus, call:
02 532 6502
Or
02 800 8000
(And if you want to help meet some of the costs of putting on the buses, also call those numbers, and tell them you want to contribute.)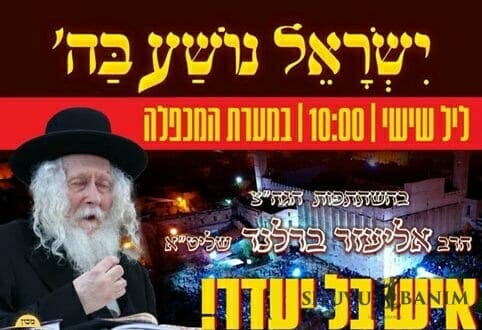 ====
Alternatively, go to the ravberland.com site and try to join the live broadcast.
And remember, these prayers aren't 'for the Rav', or for Shuvu Banim.
They are for us, you and me, and Am Yisrael.
And may we all hear good news, very soon.
====
See THIS for more info.
https://www.rivkalevy.com/wp-content/uploads/2022/08/Rav-Berland-atzeret.jpg
918
667
Rivka Levy
https://www.rivkalevy.com/wp-content/uploads/2022/07/Rivka-Levy-2-300x162.png
Rivka Levy
2022-08-25 03:28:55
2022-08-22 18:41:53
Don't forget: Prayer gathering today in Hevron